Apartments and private accommodation Fužine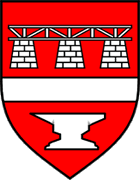 Fužine is a small mountain town and municipality in the Primorje-Gorski Kotar county in Croatia. It is situated in the southwestern part of Gorski Kotar, at 700 meters above sea level, surrounded by picturesque mountains, ancient forests of conifers and beautiful lakes Bajer and Lepenica. Fužine are relatively new village founded in the 17th century when the Counts Zrinski here started the exploitation of iron ore, after which Fužine was named (ironworks was then a term for excavation and processing of iron ore). The mines were gradually extinguished, and settlement was being developed after the construction of Karolina road and railways in the 18th century that have linked continental Croatia and the Adriatic Sea, and the cities of Karlovac and Rijeka. Today, Fuzine is famous tourist spot, with a long tradition in tourism due to its natural beauty, a pleasant mountain climate and proximity to the sea, ​​which is only 20 kilometers away. Accommodation can be found exclusively in quality private accommodation and in apartments, rooms and holiday homes. To rich tourist offer contributes 2 large and one small artificial lake, which perfectly fit into the natural mountain landscape and where you can swim or enjoy fishing, sailing or riding in boats and canoes. A special attraction is 300 meters long and decorated for visitors cave Vrelo. Nearby Fužine you will find a lot of marked biking and hiking trails. Very popular is a beautiful walk around the largest lake Bajer. The gastronomic offer is at a high level, and in the local restaurants you can find authentic local dishes prepared according to original recipes like mushroom dishes, game and wild berries. We invite you to Fužine during summer to spend the night in a pleasant highland air, and during the day to enjoy the preserved nature or in the nearby sea. Search for private accommodation in Fužine and its surroundings. Apartments, rooms and holiday homes for rent in Fužine. Welcome to Fužine!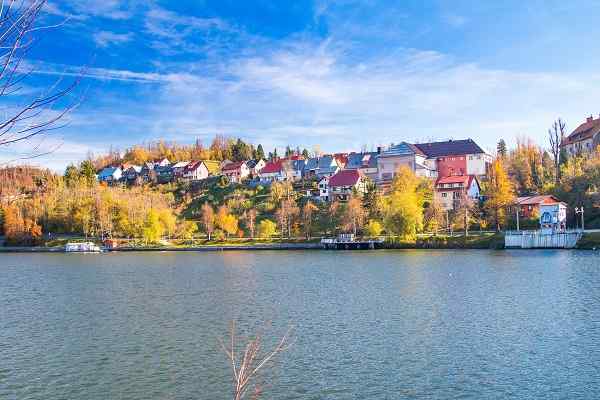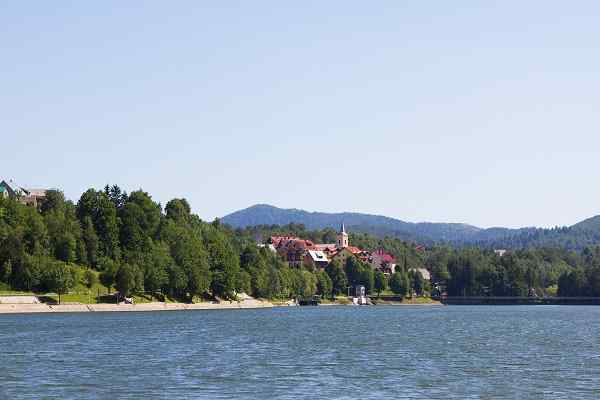 Fužine - Search private accommodation on the map
Video presentation of Fužine
From sea > 10000 m
Capacity 4 person on request
From sea > 10000 m
Capacity 4 person on request
From sea > 10000 m
Capacity 2 person from 30 €
From sea > 10000 m
Capacity 12 person on request
---
From sea 500 m
Capacity 2 person from 30 €
From sea 10 m
Capacity 3 person on request
From sea > 10000 m
Capacity 7 person on request
From sea > 10000 m
Capacity 6 person from 50 €
---
From sea > 10000 m
Capacity 12 person on request
From sea 10 m
Capacity 10 person on request
From sea > 10000 m
Capacity 8 person on request
From sea > 10000 m
Capacity 8 person on request
---
The apartment consists of two rooms, a kitchen, dining room and bathroom Categorized in the *** and provides complete comfort of home. We offer our guests during the summer: bicycles, games and winter sleds for the kids. In winter, the secured access by car to the entrance. All current and future guests are welcome in our warm homes.
---
The apartments are located in Fužine 800 meters from the center and 300 meters from the lake Bajer. They are located in the attic of the house with separate entrance. The apartments have one bedroom, living room and dining room, and a fully equipped modern kitchen and bathroom and provides complete comfort of home. Guests can use the fireplace and grasslands. The garden is equipped playground for children with swings, seesaw and slide, and badminton courts, and in the winter there is a slope length of 50 feet for sledding. Apartments are marked Kvarner Family quality.
---
Vacation in small mountain village Slavica. 840 m altitude, 17 km from Automotodrom Grobnik on highway Rijeka-Zagreb (exit Vrata, village Slavica). Beautyfull countryside, peacefully, near three lakes, two caves, national park Risnjak, cycling roads... Welcome and enjoy!
---
Apartments and rooms Lalita are located near the center of Fuzine and lake Bajer. The facility consists of two apartments (2+2, 4+2) and rooms (1+1). The apartments are fully equipped with kitchen, bedroom, living room, bathroom. Central heating. The apartments have all the necessary accessories as well as bedding, towels and more. TV, satellite TV and WiFi internet access are available. The house has a large garden with gazebo and barbecue, suitable for families and children. Also, the front of the house is parking. Within the house operates a small shop for body care offering massage, aroma massage, bath ...
---
The apartment is located at Franje Rački 38 (Fužine) on the main road. The town center is only a few minutes walk away. In the center there are shops, bank, post office, gas station, playground, hotel, restaurants and tourist office. Fužine is surrounded by the lake Bajer, next to which pedestrian and cycling paths stretch The apartment is located in the attic of a renovated residential building and is intended for 2 persons. The residential building includes several apartments which are also used throughout the year. The building is surrounded by its own parking lot and the main road. It is decorated in a mountain style overlooking Lake Bajer. The attic of the building leads to the stairs, and the apartment has its own parking space. The accommodation includes the following rooms: kitchen and living room, bathroom and bedroom with double bed. In the kitchen there is a fridge and a stove and all the necessary cooking utensils and dishes. The dining room is connected to the living room, including wooden chairs and a table. In the living room there is a TV, three seating sofas (possibility of accommodating one person on an extra bed). From the living room you have a view of the lake. The room consists of a large double bed and a roof window. Heating is on a wood burning stove, and wood is secured. Storage space is located in the living room and room. Pets are not allowed. Apartment rental is possible all year round
---
Apartment Music located in Lic close to the town center and facilities such as post offices, shops, cafes and ethnographic collections. It is equipped with *** and offers accommodation for 2 persons. There is a possibility of an extra bed. Contact person is Ms. Zlata Music.
---
Holiday home and wellness Nada is located 3 km from Fuzine, in Fuzinarski Benkovac at 900 m above sea level with a beautiful view of the Risnjak National Park and is only 20 km from the sea. 130 m2 house is decorated in a modern design wooden style. The house has two bedrooms with balconies, living room and kitchen and two bathrooms. Wellness with Finnish sauna, hot tub and large shower will offer you complete relaxation. In the house you can use our home made organic soaps and bath and taste liqueurs, spirits, syrups, cookies. Become one with fragrant and untouched nature, unplug it from the hectic and urban life and recharge your batteries for the new labor victories
---
The apartment is situated in an idyllic part of Fužine, in a family house away from noise and traffic. From the center the apartment is located 500-600 m or 5 minutes to walk. The apartment is very spacious (95 m2) and modern decorated. It has been categorized with *** and has two double bedrooms, kitchen, dining room, living room, and two WC-a/shower. In the living room there is extra bed and exit to the balcony. The apartment is equipped with central heating, TV, DVD, and for those who want to rest and do their job, we offer the ability to access the Internet through their own computers (MaxADSL flat). Guests can use the parking place, grill and auxiliary facilities.
---
The studio apartment "Proljece"and a house "Proljece" offer accommodation in studio apartment for 2-6 persons. The whole house is also available for renting, and it offers accommodation for 12. There is on disposal also one big living room with open fire place. For our guest we also have on disposal 2 bikes, and sledges. The accommodation is near the lakes, mountains, caves and hiking trails.
---
Sabina Apartments are located a short walk from the center of Fuzine (350 m) and lake Bajer (400 m). Our family house is surrounded by a large yard with fruit trees and here you will also find a terrace with wooden gazebo, outdoor furniture and benches. Our guests can enjoy in two spacious and fully equipped apartments for two to ten people. Both apartments meet the Kvarner Family standards. Here nature unselfishly gives his heart and gladly helps to all those who come and seeking for some almost forgotten desires. Apartments Sabina
---
Apartments Forest nook are located 3.4 kilometers from the center of Fu. Each apartment can accomodate up to four people. Apartments are 45 square meters and consist ok kitchen with a stove and oven and a big fridge, living room, dining room, bathroom with shower and a bedroom with a large double bed and a single bed. The apartments are located in the beautiful scenery of Gorski Kotar and all are 15 km away from the sea.
---
Apartments Vilma situated in a family house in the idyllic part of FUZINE, away from the noise and traffic. The apartment is spacious and modern. It has *** and has two bedrooms, kitchen, living room, and the toilet. Has a balcony. The apartment is equipped with central heating and TV, guests can also use the parking space and facilities. Pets are allowed.
---