Apartments and private accommodation Podgora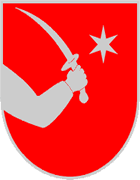 Podgora is a small town and municipality located in the heart of Dalmatia and is an integral part of the popular Makarska Riviera. Due to its favorable location, the place is very early inhabited, and was first mentioned in the 16th century. Residents of Podgora have historically practiced sailing and fishing, and from the middle of the last century tourism has important role in economy. The mild climate all year round is a prerequisite for a pleasant summer holiday with lots of sun, but is also suitable for a holiday in the mild winter time. During the summer months, Podgora organizes numerous events and celebrations such as fishing nights, folklore evenings ... This place is a paradise for those who want to spend their holidays away from city bustle, surrounded by Mediterranean vegetation, beautiful beaches and crystal clear sea. Sports and recreation activities possible in Podgora are football, basketball, volleyball, tennis, biking, hiking, diving, sailing and other water activities. Whether you decide to spend vacation at one of the famous hotels, or in one of the many apartments and guest houses, you will surely spend an unforgettable vacation in Podgora. Apartments, rooms and holiday homes in Podgora. Contact directly owners of private accommodation and save up to 40%. Welcome to Podgora!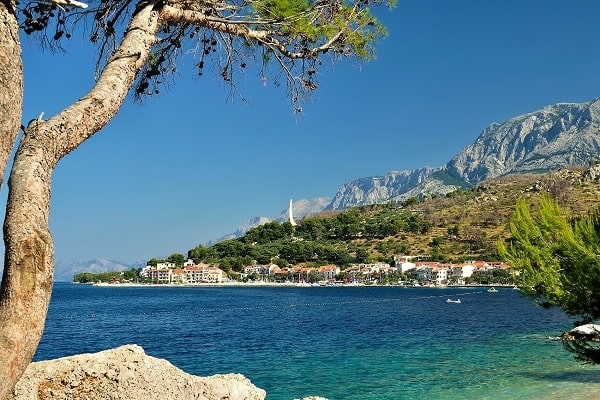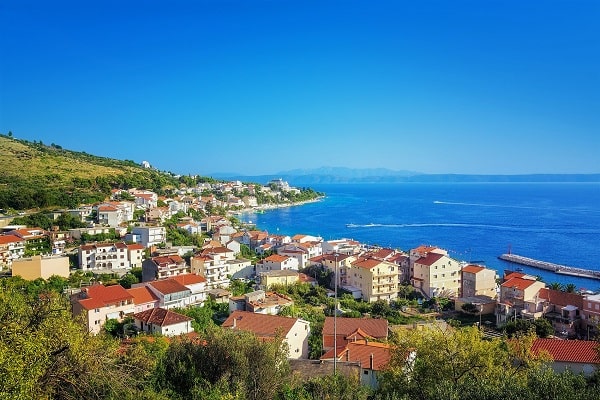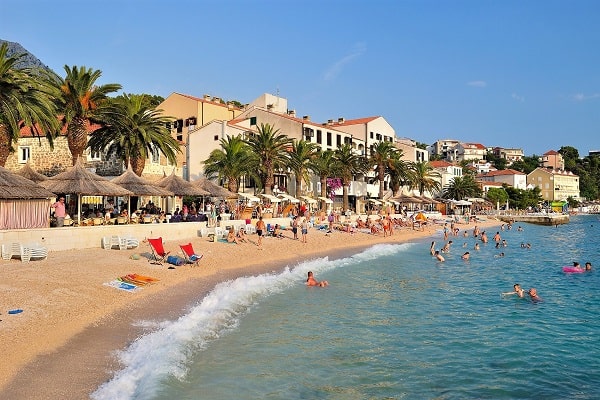 Podgora - Search private accommodation on the map
Video presentation of Podgora
From sea 200 m
Capacity 12 person on request
From sea 150 m
Capacity 8 person on request
From sea 20 m
Capacity 12 person from 55 €
From sea 200 m
Capacity 20 person on request
---
From sea 150 m
Capacity 6 person from 50 €
From sea 20 m
Capacity 2 person from 29 €
From sea 60 m
Capacity 8 person on request
From sea 150 m
Capacity 15 person from 40 €
---
From sea 50 m
Capacity 6 person on request
From sea 2000 m
Capacity 4 person from 60 €
From sea 100 m
Capacity 11 person on request
From sea 1500 m
Capacity 12 person from 250 €
---
From sea 2500 m
Capacity 6 person on request
From sea 30 m
Capacity 30 person from 40 €
---
Our apartments are located at the entrance of Podgora, in the not so noisy area and is suitable for family holidays. New apartment, in a new building, equipped with modern furniture in order to ensure a pleasant stay to our visitors. The stone facade and natural shade in the yard give a typical Dalmatian atmosphere. The facility is located a short walk from the sea, the beach, the center and shops. The immediate vicinity of forest and olive trees guarantee a fresh and clean air, and hiking trails can enjoy the beautiful view of the sea, islands and mountains.
---
The apartments are located in a family house and consist of two double bedrooms - each room has air conditioning and a balcony (in Java 2 just south room has a balcony, while the north plus extra bed for 5th person), bathroom with toilet, kitchen Hour -TV, Wi-Fi. The apartments are spacious, measuring approximately 75-80 m2. Common use of the room for a barbecue that is separate from the apartment. The apartments are connected to a large terrace which is ideal for 2 families (with the same terrace is entered into one other apartment). Access to the house is enabled by car. Secured parking located about 180 m away. Apartments are away from the promenade and the beach about 150 m.
---
Podgora is a turistic and fisherman place situated just under the impressive mountain of Biokovo, on Makarska riviera, which is, for sure, the most beautiful part of the Adriatic coast. Podgora, 10 km south of Makarska, has pebbled beaches shadowed by the old pine-trees. The untouched nature around Podgora is similar at the little part of Eden. Podgora is an ideal place for taking short excursions to Split, Dubrovnik, the Sanctuary Medjugorje or to the nearest islands islands Hvar, Brac or Korcula. Though located in the centre of the village, our house, is facing the sea. Supermarkets and a small marketplace, with ecco fresh fruits and vegetables, are near the house. Parking place for your car is reserved on the public parking. Hideaway beaches for nude swimmers are at hand (500 m), as well as the possibility of playing tennis, diving, rent a bike, rent a boat, sailing, fish picnic, or mountain climbing. If you prefer the night life, you can visit an open air disco club in Podgora or in Makarska. For gourmans, the best restaurant is the third house far from us. Our brand new apartments, (3 stars) have air condition, satelitte TV, extra charged wireless internet and a fully equipped kitchen. Apartments are 20 m away from the concrete beach, 100 m from the pebbled beach, and 600 m from the pebbled beach shadowed by the pine trees.
---
In the the house there are several apartments. Apartments are equipped with balconies and sea views. There is Wi-Fi, parking, barbecue. The house is in flowers and greenery, very enjoyable holiday. The hosts are very friendly.
---
Apartment bult in 2001 Located at the exit from Podgora. The apartment is on the ground Floor and is modernly furnished. Nearby Are Olive trees and beside The Balcony is a orange Tree That gives Fresh AIR and when the Temperatures Are high.
---
Studio apartment for 2 people, TV, air conditioning, Wi-Fi, 30 meters from the sea, 2nd floor of the house with a balcony, view of the sea.
---
Apartments Marina is ideal for a peaceful and relaxing holiday, situated in a quiet location in the second row from the beach but close to the city, the sea, the beach and all major attractions, only 30 m from Villa Nedika. All our apartments are with sea view. Apartments are equipped with: Air Conditioning, Free Internet access, SAT TV, Microwave, Kettle, and other necessary equipment. For each apartment there is one parking place next to our house. All apartments have their own entrance. There is a possibility of using the barbecue.
---
Apartments MARINO have three apartments. Book budget accommodation in Podgora.
---
The apartments are newly renovated with all the necessary equipment for a pleasant and relaxing holiday!
---
A beautifull small stone cottage houseideal for relaxion and Mediterian expiriance, with a view on the Adriatic sea. On the second floor is a bedroom with air condition, on the first floor another room with a pooling couch suitable for 2 person. On the groundfloor there is a kitchen with a dinning table and small bathroom with washing machine. Behind the house there is a small grill garden with sitting area. Next to the house there is an old willage church from the 19th century (All Saints). To the next beautifull poebby beach is abaout 2,5 km. We are looking forward to your arrivall, and wish you pleasand stay!
---
Sapunaric apartments have to offer two apartments: sea views, air conditioning, parking, Wi-Fi. Book affordable accommodation in Podgora on Makarska Riviera.
---
Stone house in old Podgora on the Croatian coast offer breathtaking view on the Dalmatian islands Hvar, Brac and peninsula Pelješac. On the foot of the national park Biokovo, 300 meters over sea level in rural environment our renovated sotne house is perfect place for holiday. 5 rooms for 12 persons ( 3 double rooms and 2 triple rooms), big garden with grill and parking places for 6 cars, dalmatian inn within the property offer all precondition for unforgettable time in Podgora. On the other side our position only 5 km from the city of Makarska and 2 km from the most beautiful beaches in Croatia call you for fun and entertainment. Minimum stay 6 days. Price per day 01.05- 30.06. 250 €/day. 01.07-15.07 300 €/ 15.07-15.08. 350 €/ 15.08-15.09. 300 €/ 15.09.-15.10. 250 €/
---
Beautiful Holiday House, just for you... Located in an old village, 2.5 km from the seaside, Villa Alegra offers you unique experience of Mediterranean as it once was. Built in 1902, and fully renovated in 2009, holiday house offers you 115 m2 of pure comfort. What was once an old ruin, has been recognized by the owners as a great potential for a vacation that will remain always remembered. Villa Alegra is not only a three bedroom + three bathroom house, but it is beautifully decorated in classical style, with Mediterranean touch, youll certainly enjoy and wish to come back. Ground floor consists of large sleeping room, with kitchen, and a bathroom. Across the ground floor, there is additional bedroom, in an independent facility, with its own bathroom. First floor consists of large living room, kitchen, dining, bathroom and bedroom. Garden furniture is in the yard, where open barbecue is also available. House is suitable for 6 persons. Kitchens are fully equiped with: * Electric cooker * Refrigerator and cooker hood * Freezer Box 15 L * Microwave oven * Coffee brewer TV and satellite are in living rooms, as in ground floor bedroom. First floor and ground floors bedroom are air conditioned. In 2 bathrooms, washing machines are available as well. Parking for two cars is on the plot, and 1 pet is allowed.
---
Villa Podgorka 4 * is completely renovated in 2017. Villa has 6 apartments 2 + 2 and 2 studio apartments. Apartments are modernly furnished and fully equipped. The villa is located in the center of the town, close to the beach and all the attractions in the place. The staff of the villa will fulfill all your wishes and make your vacation unforgettable.
---